A recent survey finds Sex Workers in the UK report facing discrimination by financial services. In response to this, on Sex Worker Rights Day (3rd March 2021) the financial sector are being sent a letter co-signed by United Kingdom Adult Professionals, along with Umbrella Lane, National Ugly Mugs, Sex Worker Alliance Ireland, and Sex Worker Advocacy and Resistance Movement.
The letter outlines the harms resulting from barring sex workers from opening bank accounts and savings, applying for loans, credit and other resources necessary to access government assistance and engage in responsible financial management. Access to banking improves safety, choice and increases opportunities for sex workers to exercise control over their resources. Discrimination towards adult industry sectors is not supported by evidence of leading to better wellbeing outcomes for the community within them. Nor does it 'encourage people to find other work' as sometimes misunderstood. The letter asks that this discrimination be stopped to reduce harm to the lives it impacts.
The letter being sent can be read here.
Results of the survey follow: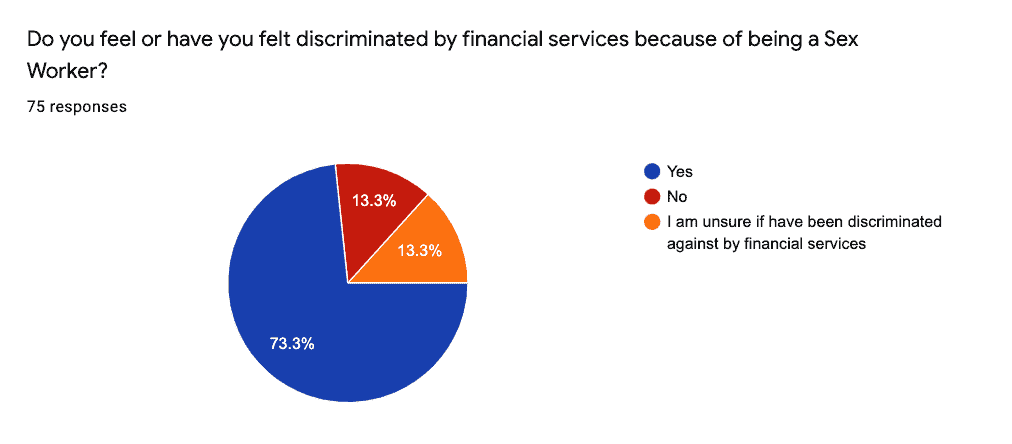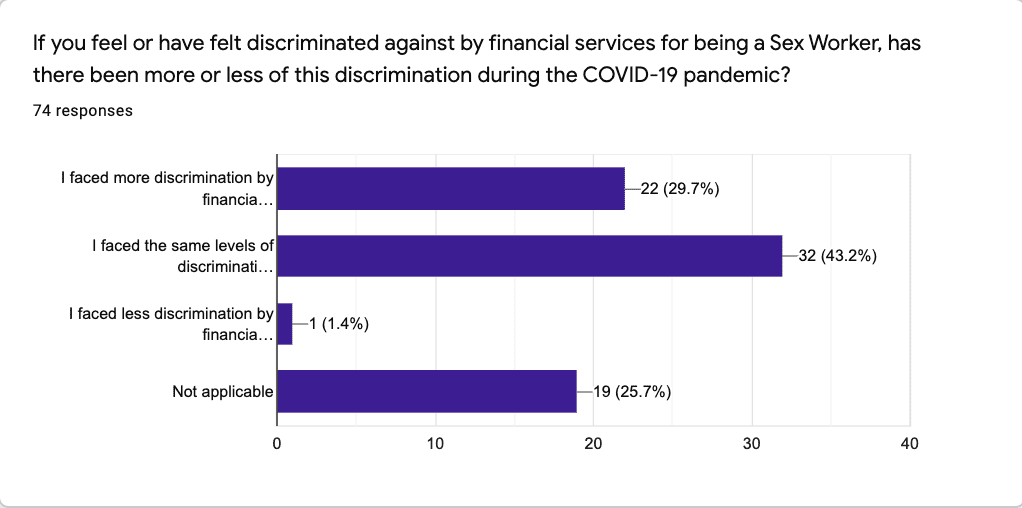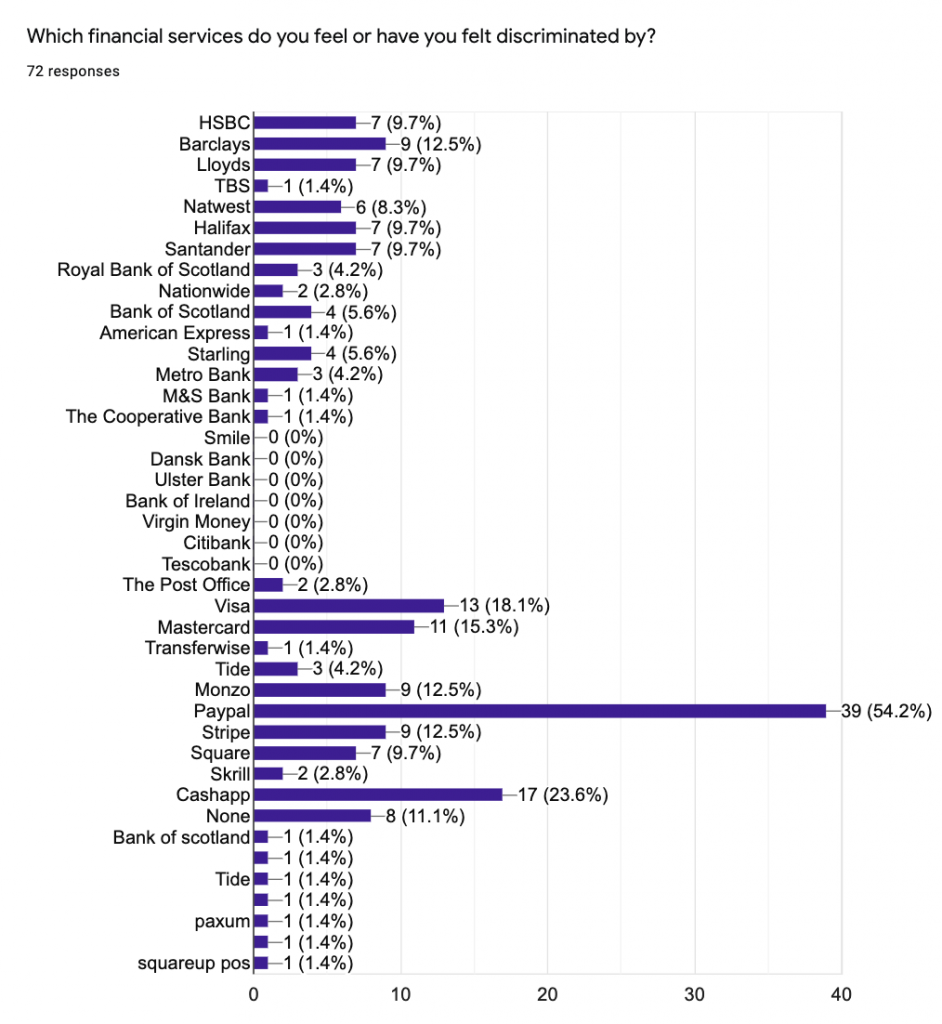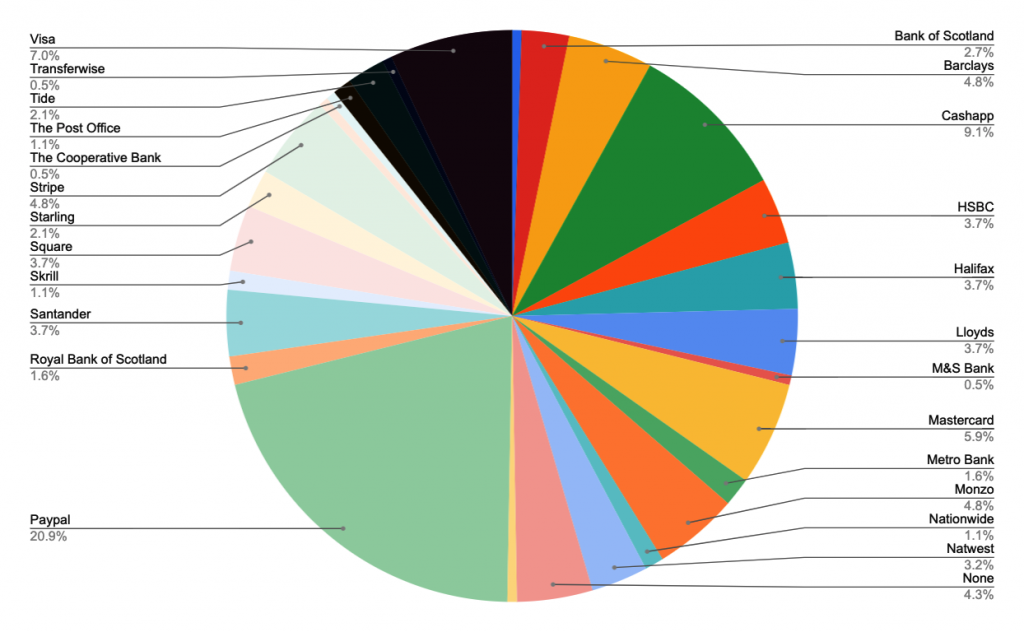 Some of the Sex Workers who reported facing financial discrimination wrote the following:
"They fail to recognise it as a job/business. I've tried numerous time to open a business bank account and been declined. And now had 3 personal accounts closed as they believe fraudulent or illegal activities are taking place due to the amount of transactions. So have no idea where to go from there. Especially as I'm VAT registered etc etc"
"We have to lie about our profession even though we pay tax. It is wrong"
"PayPal really don't make it clear about their service and sexual services I know many many many sex workers who have had funds with held by PayPal including myself. They are also extremely quick to close accounts keeping any remaining balance them selves and then make it impossible for the second worker of client to get the money back. Stripe also have barred me and have sent me an email saying I have a lifetime bar because I am a sex worker and I have taking a payment using their service"
"I SET UP MY POS TO TAKE CARD PAYMENTS AND THEY SHUT DOWN MY ACCOUNT…"
"HSBC would not allow my limited company to open a business bank account when they asked the nature of the business and were told it was adult movies – despite it being completely legal to produce and sell said movies! I was told that this is standard policy."
"Not taken seriously about needing business advice by bank when asked for call twice I never received. I clearly get a little cash. Need hand in my ESA even tho I am very unwell but never want to set out for benefit fraud. I strongly suspect they have put a marker of fraud in my account. It has me worried and quite scared tbh ."
"It's hard to claim taxes when access to accounts is restricted"
"Sex workers are forced to hand out more personal bank details like full name, because PayPal and other cash deposit apps don't allow us on their apps and ban immediately."
"It's upsetting to be dropped like a hot stone just because of the profession. Usually without reasonable explanation."
"As a professional dominatrix, I was Unable to work for almost a year. No government support including from local council. They don't give grants for self-employed. The bill that was introduce to criminalise paying for sex work, hence less clients, danger to being fined in case of offering service, danger to my own and clients well-being – risk of being forced to work illegally and pushed to work the streets. With lockdowns less income because no possibility for seeing clients in real-time. Online financial domination service is slim cause many clients struggle financially too."
"I'm encouraged to lie on my tax returns, to the bank etc about my actual sources of income to avoid discrimination"
"We should have been able to get some sort if financial support from the government"
"No financial help through the pandemic in any way"